Money makes the world go round that is without a doubt. Some even worship it because of the many things you can do with ease. You can buy beautiful clothes, jewelry, homes, cars, and all the luxuries in the world and no longer have to worry about what the future holds. However, having too much money isn't the answer to all your problems because greed can do you a lot of harm. Money can make a world of difference where everyone can benefit when used right. For your information, about 1/3 to ½ of the economic prosperity we are now reaping is the product of the numerous developments since the end of the Second World War. Everything we take for granted today all started as an idea that became a reality with the help of scientific research.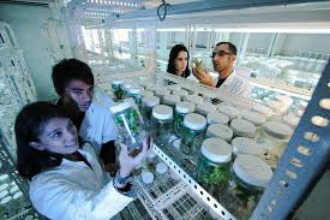 Scientific developments fuel prosperity. Most progressive countries have spent a great deal of effort and money in discovering and developing many scientific innovations from scratch that not only propelled the economy upwards but also uplifted the lives of many. We all know scientific researches take time and require a lot of money. The government funds many of these researches in the name of science to also get ahead of other nations. Some of these researches can drag on and take years before something fruitful comes out of it but others deliver the results we are looking for in a short span of time. Many of these researches won't even happen if the government did not believe in the vision of scientists in realizing the ideas circling in their heads.
For decades, Chicago has had a backyard view of science at its most sublime. At Fermi National Accelerator Laboratory, physicists hone our understanding of the universe by trailblazing the frontier of the subatomic. At Argonne National Laboratory, scientists probe ways to make lighter, cheaper batteries for electric cars and smartphones, and tackle global water scarcity with membranes fine enough to filter out viruses and nanoscale pollutants.

That's practical research that recognizes how finite the planet's resources are. Advancing battery technology helps ensure a reliable power source for tomorrow's driverless cars and taxi drones. How bad are the world's water troubles? Water scarcity affects at least 700 million people in 43 countries, according to the United Nations. By 2025, the number of people living in areas without enough water will rise to 1.8 billion, the U.N. projects.

It's disturbing to see where that research fits into President Donald Trump's federal spending priorities. Under Trump's proposed budget for fiscal year 2018, the Department of Energy's Office of Science, which oversees Fermi, Argonne and eight other national laboratories, would take a $900 million budget cut.
(Via: http://www.phillytrib.com/commentary/the-importance-of-funding-science-research/article_bf807855-f53f-5738-8adb-5444a19131f4.html)
No matter how much scientific research has contributed to the betterment of society, not everyone is a fan of it. We all heard about President Donald Trump's budget cuts on various sectors like the arts and education. Science isn't exempted either. These are just some of the things he doesn't personally believe in like how we consider climate change as merely a hoax.
As Environmental Protection Agency Administrator Scott Pruitt defended massive proposed budget cuts to a House subcommittee Thursday, experts from the nation's top science organization voiced their support for one of the programs slated for elimination.

A report released Thursday by the National Academy of Sciences — and prepared at the request of the EPA — argues that the agency's Science to Achieve Results, or STAR, program, which provides millions of dollars in funding for scientific research each year, has contributed to important benefits for the environment and the public health. And it recommends that the agency continue to use it.

"This report shows that through STAR, EPA has created a vehicle that fosters collaboration and knowledge-sharing, which have produced research that has supported interventions that may reduce the cost of regulations, protect public health, and save lives," the document states.
(Via: https://www.washingtonpost.com/news/energy-environment/wp/2017/06/16/this-epa-research-program-just-got-a-rave-scientific-review-trump-wants-to-eliminate-it/?utm_term=.22742e61cc9f)
Trump's proposed 2018 budget will hurt various industries a lot and it is a major cause of concern for both environmentalists and scientists. Federal funding that supported scientific researches has initiated innovations on health and science that are desperately needed by the public. They wouldn't all be possible without the government's help. In reality, many of these programs that would be badly hit by the budget cut have produced lifesaving and practical results. Losing them would mean a certain harm for all Americans who would rather see their taxes go to much-needed scientific developments than border walls even if they are solar-powered.