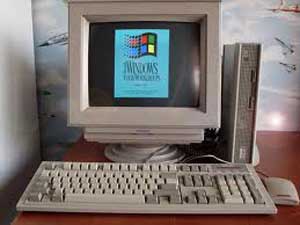 In certain circles, Everex Systems Inc.'s downfall has been portrayed as a classic example of how a vicious PC price war can quickly turn a $500 million company into a casualty.
However, many observers and former employees attribute Everex's financial woes, which culminated with last week's Chapter 11 filing, more to its own lack of identity than to the price war.
In particular, the Fremont, Calif., PC maker operated without a clear product strategy, instead saturating the market with as many as 150 models of computers as well as servers, monitors, modems and peripherals that differed little from each other.
This lack of focus, coupled with its sprawling product line, alienated Everex from its dealers, VARs and, ultimately, its customers, observers said. "Everex tried to be everything to everybody," said Randy Giusto, senior analyst for WorkGroup Technologies Inc., a market researcher in Hampton, N.H. "They took a product line, made subtle changes to it and adapted it to different channels. But it was essentially the same product that they were selling."
Spread too thin
"The company didn't know who it was or who it wanted to be," said one former Everex executive. "They were always developing zillions of products and always off buying little companies. It all amounted to problems with the cost structure. They simply spread themselves too thin."
Last week, Everex filed for protection from creditors under Chapter 11 of the U.S. Bankruptcy Code. The move was necessary for the struggling company to relieve pressure from creditors and preserve its assets and operations, according to Michael Whalen, Everex's director of marketing services. The company owed its creditors more than $135 million, he said.
Everex's creditors include CIT Group/Credit Finance of New York, which is owed $23.1 million; Microsoft Corp., nearly $4.8 million; IBM, $4.6 million; Kanemetsu USA Inc., a Sunnyvale, Calif., securities firm, $4.3 million; Intel Corp., $4.1 million; Seagate Technology Inc., $3.6 million; and Conner Peripherals, $2.5 million, said Whalen.
"We needed some breathing room," Whalen said, referring to the filing. "We have a lot of plans, some already in progress. As far as the reorganization goes, in order to protect ourselves from aggressive creditors we had to file."
The Chapter 11 filing tops off a month of turmoil at Everex. On Dec. 28, Everex announced that founder and CEO Steve Hui had resigned and had given up his seat on the company's board of directors. Hui was replaced by Jack Kenney, whose forte is crisis management, said Whalen. Kenney was unavailable for comment.
"Steve Hui voluntarily offered to resign, which he thought was in the best interests of Everex," Whalen said.
Hui's departure came only weeks after President Hal Clark and Chief Financial Officer Dave Zacarias resigned from the company. Both Clark and Zacarias also left voluntarily, Whalen said.
The flurry of resignations came on the heels of an announcement earlier last month that Everex would post a preliminary fiscal year loss of between $80 million and $120 million — up considerably from October's projected $30 million loss. But the company still has not reported its earnings for the quarter ended July 31; as a result, the NASDAQ stock exchange has placed an "e" at the end of its stock symbol, indicating that it is late in filing its earnings.
In the past few months, the company cut its work force from 1,850 to 1,100 employees, closed its Utah operations and began outsourcing its low-end Tempo and Step computer lines to Asian manufacturers.
But Everex's slide into Chapter 11 has been a long time coming, according to observers and former employees. For more than a year, rumors have swirled throughout the PC industry about Everex's demise, and some trace the PC clone maker's troubles back two years ago, when its dealer relationships began to crumble.
According to Giusto, Everex was dabbling in channels of distribution aside from its traditional resellers. Everex started selling its vast array of computer lines and peripherals in superstores and price clubs at very aggressive prices. "There was a lot of dealer fallout as a result," Giusto said.
One of those dealers was Frank Cieri, president of Micros Unlimited Inc., in Woburn, Mass. Cieri, who was also a member of the Everex dealer advisory board, pointed to Everex's many competing product lines as the main source of friction.
"At all of the dealer council meetings, we strongly suggested that they cut the product line down," Cieri said. "They said they would, but they never did."
And users said they grew increasingly frustrated with an apparent lack of communication within Everex. "They had too many people calling on the same account — as many as four or five sales reps," said one longtime Everex user, who recently switched to systems made by Hewlett-Packard Co. "They had some good people working there, but they were stymied by the system. Over the past six months, they were totally unable to respond to our needs."
Whalen admitted that Everex offered too many products and didn't focus on its engineering strengths. However, over the past few months, the company had been revising its business model to focus on high-end multiprocessing servers, as well as cater to its VARs and integrators.
"We haven't been sitting around doing nothing; we've been working overtime revising our business model," said Whalen. "Now we have some time and some breathing room."
Filing for Chapter 11 does not necessarily spell doom. In February 1989, Leading Edge Products Inc. filed for Chapter 11; nine months later, it emerged from bankruptcy protection after being purchased by Daewoo Telecom Co.