All nations protect their sovereign territory from outsiders. It's just normal. It is even more pronounced now with most countries requiring foreigners to secure certain types of visa when visiting abroad. Progressive nations are strict when it comes to this issue as they have more to protect and won't just easily let in other races without sufficient documentation. The same thing is happening in a French woodland as the government evacuated hundreds of migrants to prevent them from crossing over into Britain with France as their gateway to a greener pasture.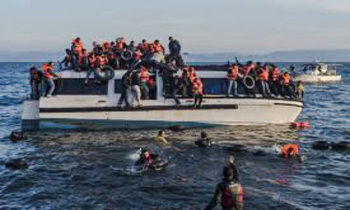 These migrants are mostly Iraqi Kurds and estimated to be about 350 all in all and have been camping in a wood in the French northern coast. There is a possibility that these migrants are planning on crossing over into the UK for various reasons. The British government is especially sensitive right now about territory issues as they themselves are planning to separate from the entire European Union and establish their own sovereign state. So far, the French government has broken the migrants into groups of ten and will be taken to various migrant centers in the country for proper assistance.
French authorities evacuated hundreds of migrants from a wood on the northern coast near Calais on Tuesday over fears it could become a magnet for others hoping to head to Britain.

Some 350 men, women and children, most of them Iraqi Kurds, had been living for weeks in squalid conditions in the wood on the edge of the town of Grande-Synthe.

Hundreds of police were brought in to dismantle the camp as its residents were packed onto buses, bound for migrant centres in 10 different regions across France.

"At the last count there were 56 children present and around 40 women. I can't let this situation go on anymore," local mayor Damien Careme told AFP on Monday before the operation.

Grand Synthe lies 30 kilometres (19 miles) from the port city of Calais, where authorities dismantled the sprawling "Jungle" camp — which at its height was home to 10,000 people — in late 2016.
(Via: https://www.thelocal.fr/20170919/france-clears-hundreds-of-migrants-from-wood-near-calais)
These migrants have actually set up various encampments in different parts of France and are proving to be a major headache to local authorities as thousands of refugees seek refuge after being driven out from their hometowns. This European migrant crisis had been going on for some time as refugees are forced to seek solace in foreign soils as wars and political strife leave their nations uninhabitable for good. While they have been offered asylum in France, many of them are believed to still eye Britain as their final destination.
The French government has spent nearly 34 million euros since 2006 on leasing private planes to move and deport migrants, a BuzzFeed News investigation has found.

While a number of reports over the years have indicated that the French Interior Ministry has been leasing a single private aircraft that it uses to move asylum-seekers between detention centers within the country, new documents obtained by BuzzFeed News reveal that France has also been leasing several planes to deport asylum-seekers over the last 11 years.

The French government has used a number of ways to deport migrants in the past, including commercial flights, trains, and boats. But the border police have also been hiring smaller chartered planes, manufactured by Beechcraft, from private companies to move small groups of migrants almost on a daily basis. 
(Via: https://www.buzzfeed.com/theoenglebert/investigation-on-the-millions-of-business-airplane-2td76?utm_term=.gdQ24N7PX#.wyxm41Njl)
It's not just the threat of spreading the refugee crisis further that France has to deal with but the extra expenses the government incurs as they provide for some of the needs of the migrants and they do not come in cheap either. In order just to deport these people, the French has spent a total of 34 million in plane rental alone not to mention the salary of officials that deal with this crisis and every other expenditure related to the management of their presence. It's a big burden indeed but is an intervention they must do in order to protect their people and ensure that law and order are upheld in their nation at all times.