Many people are into all types of sports wherever you are in the world. Usually, a certain country has that one favorite sport but still, the citizens enjoy a wide assortment of athletic activities that bring about enjoyment not only to the athlete/player himself but to the audience too. Watching sports activities is a favorite past time of many and it is something most Americans can relate to. Many like spending their free days either lounging at home in front of the television watching a game or two or heading out to the venue itself and watch a game played live.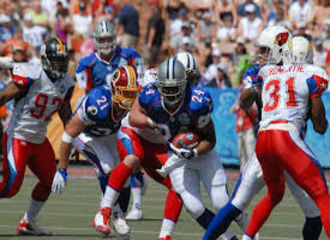 These sports events do not come cheap, though. Getting a seat in a much-awaited game can hurt your wallet. Despite the financial challenge, many sports fans willingly shell out their hard-earned money and cheer for their idols from the bleachers. And you don't only spend for the ticket itself but also for transportation/gas, food, and some nice hats to protect you from the harsh rays of the sun, among others. If you are an average Joe, it is unlikely for you to ever set foot inside big game venues like the NBA or the NFL because of ludicrously expensive ticket prices.
Did you just drop a few hundred bucks or more going to a professional sporting event over the weekend? You're not alone.

Consumers shelled out $56 billion to attend sporting events over the past year, according to a new study by CreditCards.com. The amount includes the cost of tickets, transportation, and food and drinks. By way of comparison, that's more than double the $27 billion-plus that Americans spent on book purchases in 2015, according data from the Association of American Publishers.

"The fact that people are spending this amount of money on sporting events shows the emphasis they're putting on experience and memories instead of just stuff," said Matt Schulz, senior industry analyst for CreditCards.com.
(Via: https://www.cnbc.com/2017/09/11/americans-spend-56-billion-on-sporting-events.html)
As this trend goes on, it becomes obvious then that lower-income generating families tend to avoid live game events and would rather watch from the comforts of their home. Sporting events are a multi-billion dollar industry that not everyone can afford but it continues to attract big audiences from the middle and upper class of society. Not only that, people spend on sporting goods and equipment too and this is more evident now as more and more people want to become fit and healthy and lead an active lifestyle.
The $2.6-billion stadium Rams owner Stan Kroenke is building in Inglewood will be the world's costliest venue with a ticket pricing plan that would offer the most expensive seats in NFL history.

According to a document obtained by The Times, the highest priced personal seat licenses for Rams games could range from $175,000 to $225,000 per seat. It would far eclipse the $150,000 PSLs offered by the Dallas Cowboys at AT&T Stadium.

The license only entitles the owner to purchase a Rams season ticket after paying the one-time fee, which in a first for the NFL will be refundable — without interest — after 50 years. The buyer must then purchase a game ticket with the best club seats tentatively priced between $350 and $400 a game. The PSL can be sold to another party with permission from the Rams, a standard practice in the league.
(Via: http://www.latimes.com/sports/sportsnow/la-sp-rams-psl-20170831-story.html)
You don't have much choice either but to spend a lot if you are a sports fanatic. Pay-per-view is as costly as a real live game. Both has its pros and cons. It's all up to you what you like most. If it's your favorite team, you'd likely go watch it live so you can support them in person but either way, watching on TV is great as well for those who do not want to inconvenience themselves with long lines and mingling with a big crowd. Whichever of the two, you'd still pay for it just to be able to watch your favorite sports game when you want it.