Winter has gone and spring has come. Every living creature on the planet is rejoicing. We can not wait to explore the beauty outside as signs of life can be seen blossoming everywhere. The thought of climate change and global warming, aside from having sheer delight in being able to give life to something, is a great excuse to find out whether you have a green thumb.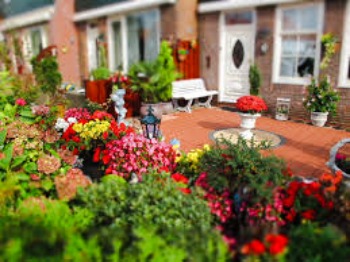 Whether you have or don't yet have a garden at home, making one isn't as hard as you think it is. Look for a clear spot somewhere in your yard that is exposed to the sun and is likewise close to a water source. The first thing in your agenda is to make sure that the area is clear of anything and the soil is fertile or risk wasting all your time and effort trying to make a garden where plants won't actually grow. Today, there are different ideas for the budding gardener depending on your preference and what usual plants grow in your region. If you want to start your own garden at home this spring, here are a few tips you need to remember:
Plan, plan, plan
Before you start digging any dirt, figure out what areas of the yard get full sun, part sun and no sun. Use that information to figure out where you want to plant new shrubs, bushes, perennial flowers and annuals. If you aren't sure what plants will thrive in certain lighting conditions, your local gardening store has employees who are ready to help.

Thriller, filler and spiller

When designing the pot, consider using the "thriller, filler and spiller" technique on each pot. Apply one of the following:

Thriller: a beautiful, larger plant

Filler: grass to fill the space-give height

Spiller: vines hanging over the pot

Use egg cartons

Growing vegetable and herbs from seeds may seem intimidating, but Chris can walk you throw it. He uses old egg cartons as inexpensive starters and keeps them indoors until they are ready to be transferred outdoors.
(Via: http://www.today.com/home/gardening-tips-3-things-know-when-planting-t109980)
Just follow these three easy steps and you can definitely grow something in your yard even if it's you are new to gardening. Trees are a great start. But if you feel that these tips are too vague and want more specifics, then you won't be disappointed because here are some more:
Prepare your yard:

Clear the yard of any debris, downed limbs, etc. Look for areas that may need to be reseeded. When you mow, don't cut the grass too short the first few times.

Prune trees and shrubs:

Cut dead or diseased branches from trees and shrubs. Trim summer-blooming shrubs such as butterfly bushes, hydrangea, and roses. Prune early blooming shrubs after they bloom. 

Test your soil:

You can find a home soil-test kit at most home improvement stores. Follow recommendations according to your results to prep your soil.

Prepare a space:

Clear the area you will be planting of weeds and debris. Cultivate to a depth of 10 to 12 inches. Create a map of your yard and design a layout of flower beds and/or a vegetable garden on paper first. 

Start planting:

Plant bare-root trees, shrubs, and perennials by early spring. You can transplant container plants anytime in the season except for the middle of summer. 

Fertilize:

Apply balanced fertilizer according to your soil test results around shrubs and mulch beds when new growth starts to appear. 

Don't forget the water:

New plants need water. Be sure to check the appropriate amount of watering needed for each type of plant. 

Bring on the sun:

Check the instructions for each of your plants to determine their tolerance to sunlight.
(Via: http://www.wral.com/spring-into-your-garden-tips-for-success/16644433/)
The most important thing to know is the type of plants you can grow your new garden. Since not all of us are experts when it comes to plants, here are the different plant types to choose from:
Native plants

Native plants, in general, require less maintenance. They also benefit the environment by attracting native insects.

Limit variety

Instead of having a few of many types of plants with different needs, focus on multiples of superhero plants. This will drastically cut the amount of time spent on maintenance.

Plant superheroes

Perennials: Geranium Rozanne is a hardy, long-blooming plant with bright blue flowers.

Flowering shrubs: Summersweet (clethra) is deer-resistant and has spikes of aromatic flowers.

Annuals: Supertunia petunias are vigorous plants that will fill in a space in a garden or trail in a container or hanging basket. 

Needy plants

Plants are not your children or pets. Swap needy plants for higher-performing plants.

Plants to swap

Bigleaf hydrangeas bloom inconsistently and require a lot of water. 

Goldsturm black-eyed Susan is prone to fungal disease on leaves.

Drought-tolerant plants

Choosing plants that don't mind dry conditions means watering less. 

Flowering shrubs

Shrubs will fill a large space with blooms and are low-maintenance. 
(Via: http://lancasteronline.com/features/home_garden/tips-for-a-simplified-garden/article_370c65f2-1ad9-11e7-8245-bf511d98b9b1.html)
For any garden to grow, you need to plan, plan, and plan before doing anything else. Whatever plant you decide to grow won't thrive if you have not prepared the space and made sure the soil is rich. These are vital information that all aspiring gardeners need to remember. Nothing can be as satisfying as seeing plants grow and blossom from the seeds you have planted. While spring is the perfect time to plant blooms, in particular, you can also plant fruits and vegetables in your yard. That way, you not only put food on the table but organic ones as well.
One can find so much joy in planting, be it a floral or fruit/ veggie garden. The planet needs more of these carbon-eating, oxygen producing plants to make the world more livable for us human and animals alike. So, what are you waiting for? Roll up your sleeves and get your hands dirty and transform your yard into a garden to behold. For sure, you'd be the envy of your neighbors if you can transform a blank space into an eye candy with nothing but just your bare hands and gardening passion.