Humans are social animals. Although we long for our peace and solitude at times, we mostly thrive in the company of others. From our childhood to adult life, we have various relationships with the people around us. And our modern world capitalized on this relationship-based society in making social media what it is today. There are all sorts of social media everywhere but still, people can't get enough of it. Social media users grew exponentially and it is now even used in growing and promoting businesses as well.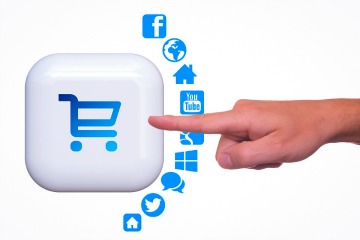 Along with the advent of the Internet are E-Commerce businesses. This platform enabled most conventional businesses to sell online and even opened up a whole new plethora of internet-based businesses only. And then along came social media to take things to a higher level. The ads you see on your screen are there for a reason and many people are making money out of it. Even E-Commerce sites are using social media to grow their profit and tap a wider audience.
Facebook, Social Media and E-Commerce boom and their connection.

When the internet was born, it was helping the armies, however, it began as a competitive advantage for every business that embraced it. Nowadays, very quickly, the Web becomes a business necessity. It is simply not possible to remain competitive without having an online presence.

Over the last few years, the number of adults using social media has skyrocketed worldwide. Facebook recently reported that it had more than 1.2 billion monthly active users on the site in 2013, according to Reuters. More than 70 million people use Pinterest, while Twitter had more than 200 million active users in 2013. In 2016, according to Malaysian Digital Association, Malaysian spends the average of 18 hours on internet per week and Facebook is on top of the list for social sites accessed by Malaysians. Although many people use these and other social media platforms just to stay in touch with their friends and family, they have a profound impact on many aspects of business and e-commerce.

The companies that embraced the existence of social media are now generating roughly $2.4 million every minute through e-commerce. A large chunk of this revenue comes directly from social media, with Facebook, Instagram, Pinterest and Twitter helping to generate more than $40,000 every 60 seconds.
(Via: http://www.valuewalk.com/2017/03/facebook-social-media-e-commerce/)
Whenever you log into your social media accounts, you see various sponsored posts or postings about businesses here and there. They are subconsciously promoting their business to us through the engaging posts and photos they post daily and we end up wanting more.
E-commerce is everywhere now.

But as brands move beyond their apps and court customers on social media and the mobile web, there's still plenty more for them to do to get ahead, according to a new study by L2.

The market research firm said contextual commerce — practice of giving shoppers the option to buy where they want — offers expanding opportunities to retailers as consumers pass by a multitude of apps in favor of the mobile web and social media.
(Via: http://wwd.com/business-news/technology/e-commerce-apps-social-media-facebook-instagram-snapchat-10731813/)
All businesses must establish an online presence if they want to keep up with all the changes happening in the world today. E-Commerce and social media now go hand in hand if you want to beat the competition and make your brand stand out, so the people think of it first when they need a product or service in line with your industry.
Facebook, Instagram and Twitter are the most popular social networks, and each has a unique audience. It's important to first get to know these differences so that you can take a specific approach with each one. Here are a few things to know as you plan your marketing efforts.

Facebook

Facebook is less open than other social media platforms, but its continuing popularity makes it impossible to ignore. The platform is very community based, making it ideal for local B2C businesses. However, when used correctly, it can also be a valuable resource for online retailers that operate without regional restrictions. Shares are crucial to success on Facebook, since they're the only organic way to reach people who haven't liked your page. Include photographs with every post and overlay them with text describing your current special. 

Instagram

As popular as Facebook has become, its demographic skews slightly older, making it less-than-ideal for businesses interested in reaching those in their teens and 20s. Instagram's demographics falls squarely into that age bracket, with 55 percent of all 18- to 29-year-old Americans who are online using the site.

Twitter

Twitter's 140-character limit makes it a challenge for marketers, but when used correctly, it can be a powerful tool. Through the use of hashtags, you can reach customers who might be looking for items like yours. However, images that encourage re-tweets can be even more effective in reaching potential customers. Twitter has also become a venue for customer service requests, so it's important to maintain an active presence and set up notifications to ensure you know as soon as your brand is mentioned. 
(Via: http://www.cio.com/article/3132468/social-networking/how-to-choose-the-right-social-media-for-your-ecommerce-business.html)
We can't stop progress from happening and that direction is taking us to more technological advancements in the years to come. Our lives will forever be intertwined with technology. For you to thrive in this new world, you have to embrace it and master it as soon as you can. As they say, ignorance is never an excuse.
The same thing is true in the world of e-commerce. Whatever your opinion of social media is irrelevant and you have to put it aside in order to grow your business. Join in on the bandwagon and make money using this platform that allows you the best and widest exposure at the most reasonable price. There is a social media platform for each demographic and you can make the most of it to promote your business and grow your brand while at the same time building a long list of growing followers and social media influencers who can help establish your empire. E-commerce is not just a term anymore for online shopping. You now influence people to patronize your brand because of your strong social media presence.