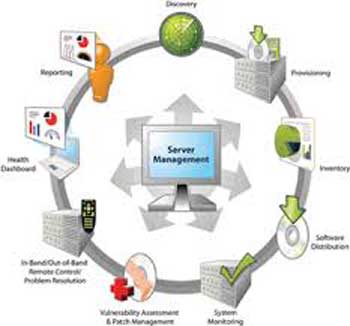 Intel Corp.'s forthcoming LANDesk Manager 1.0 may not have the most complete set of LAN-management tools available, but it does provide the infrastructure for the next generation of integrated management systems.
Intel is a member of the consortium defining the Desktop Management Interface (DMI) specification and has designed LANDesk's architecture to reflect the forthcoming standard. A single 10K-byte terminate-and-stay-resident program on each of the target workstations functions as the all-purpose agent for the central management console, gathering information for LANDesk's various management components (see graphic, Page 13).
LANDesk will migrate to the DMI API (application programming interface) specification, which will permit other DMI-compliant applications to exchange data with LANDesk, when the DMI spec is released later this year.
With the first release of this Windows-based tool, to be shipped this month, Intel appears to be further along than its competition in providing management tools that integrate workstation inventory, remote control, virus detection, software metering, server monitoring and network traffic analysis. Rivals Brightwork Development Inc., Microcom Inc. and Saber Software Corp. are working on pieces of the same puzzle, but their offerings are not as comprehensive.
LANDesk's scope, however, is a bit narrow, focusing primarily on managing workstations. PC Week Labs would have liked to see more server-monitoring features in this release, but Intel officials said such features will be included in a future release.
The initial release of LANDesk is also limited to monitoring and alerting managers to problems, and it lacks the ability, found in Frye Computer Systems' NetWare Early Warning System, to automatically take actions to correct problems it has discovered.
LANDesk still has room for further integration between its modules. For example, the Inventory Manager module picked up changes in a test workstation but did not let us remotely control that station to make corrections without leaving the Inventory Manager to invoke the Desktop Access module.
One of LANDesk's strong points is its rich graphics. In PC Week Labs tests, the Traffic Monitor module displayed IPX, AppleTalk and TCP/IP traffic counts on the network by packet type in small panels.
We found it easy to highlight specific protocol types by dragging and dropping a filter onto a large thermometer-type display, which showed the protocol's packet rate, percent utilization and error rate. A histogram display provided a good historical view of network traffic over time, making it easy to spot general trends.
However, Traffic Monitor does not have a mechanism found in protocol analyzers for fully decoding packets and examining their contents. Intel officials said future versions of LANDesk will include this functionality.
Although LANDesk specializes in NetWare monitoring, we were able to construct an Ethernet filter that monitored traffic from Banyan Systems Inc. VINES servers on our test network. LANDesk's Dynamic Data Exchange support enabled us to link data from the Traffic Manager into a Microsoft Excel spreadsheet.
Intel has broken new ground with the Application Monitor component, which lets managers design network segments and plan file-server installations in a way that maximizes the performance of the server and the network as a whole. We used Application Monitor to track the impact of specific applications on overall network performance.
For example, we configured the tool to monitor any use of word-processing and spreadsheet files on the server. Application Monitor continuously monitored the file-transfer activity on the network, displaying a bar chart of all traffic involving the applications.
We appreciated LANDesk's extensive customization options. We were able to create a custom object to group a series of network-management tasks under one icon. We also created an icon that, when selected, performed appropriate actions for adding a new user to the network. This feature could be improved with the addition of a drag-and-drop capability, which would let managers avoid entering file and directory names.