Dealership personnel, corporate employees and factory workers are being encouraged to watch TV on the job. Programming, courtesy of the automakers, ranges from talk shows for service technicians to coverage of auto shows.
While most auto companies say they get along well without TV communications, a handful – the Big 3, Toyota Motor Sales U.S.A. Inc. and BMW of North America Inc. – rely on TV systems to inform dealers and train dealership sales and service employees, and to allow corporate employees to meet, all without people leaving their workplaces.
With the exception of BMW, it is the larger auto companies that have invested in TV communications. Several other auto companies say they have looked at the systems, but their operations are too small to merit the investment. Those companies opt for video conferencing, which uses telephone lines and monitors; rent satellite TV time a few times a year as needed; or use e-mail. (See story on Page 41.)
The systems cut down on travel expenses and time away from the dealership or the office. Another benefit is that the target audience gets information first hand, cutting down on the risk of the message getting mangled in the translation.
While TV will never take the place of actually being there, it is an excellent way to disseminate information when face-to-face communication is not really necessary, say program officials.
For instance, a BMW technical course that used to require five days out of the dealership, may now require only three days out of the dealership. Two days' worth of training is offered on Visionwerke, BMW's satellite TV system, said Joanne Irish, BMW new-technologies training manager.
Except for training sessions, the manufacturers say it is hard to determine audience size. Most declined to say how much the systems cost or how much they and their dealers save as a result of having the systems.
"We don't have a Nielsen rating system; people are not filling out diaries," quipped Len Marsico, director of communications technology at General Motors.
Gary Vaughan, lease manager at Townsend Ford in Tuscaloosa, Ala., said Fordstar, Ford's satellite system, is priceless. Townsend Ford retails about 300 new Fords a month.
Vaughan said the information that is broadcast often solves old problems and is a catalyst for new ideas. He said he often tapes shows and watches them at home while riding his exercise bike.
Chrysler Corp. suspended the six hours of programming per week on its Chrysler Dealer Network about 18 months ago, because people weren't watching, said Mike Gonda, Chrysler manager of satellite communications.
The automaker found that in many instances, the dealership TV monitor was in a meeting room or break room, which was not conducive to training, Gonda said.
Currently, Chrysler airs programs to dealers as necessary to inform them about press conferences, dealer announcement shows, product recalls and sales incentives. Dealers are alerted to the shows via e-mail or fax.
The auto companies that have satellite or cable TV systems have their own studios and usually feature their own employees on the telecasts.
Saturn Corp.'s broadband cable TV feeds into 400 TV monitors in cafeterias, team centers and offices at its assembly plant in Spring Hill, Tenn., said Mike Kramer, supervisor of the EDS/Saturn media center. The telecasts are not aired to dealers.
Saturn produces much of its own programming. The network also features news from local ABC, NBC and CBS affiliates. Saturn broadcasts to its factory employees 20 hours a day, six days a week.
Among Saturn's offerings is "Window on Saturn" an upbeat, 15-to 20-minute show that focuses on the people who work at the plant. Kramer calls it "edu-tainment."
Ford Motor Co.'s Fordstar Dealer Communications Network is the most elaborate auto industry TV system.
The $100-million-plus interactive satellite TV system enables Ford to hold meetings and training sessions with its 5,014 Ford and Lincoln-Mercury dealerships and dealership employees.
Lawrence Conley, Fordstar manager, said Ford began studying what is now Fordstar in 1993. Ford examined the satellite systems used by Chrysler and GM. Those systems, at the time, consisted of one-way video. Ford also explored fiber-optic technology.
"We said, 'That's not enough,'" Conley recalled.
Ford piloted the program with 56 U.S. and Canadian dealers in October 1994 and began its North American rollout in April 1995.
With the exception of a handful of Ford and Lincoln-Mercury dealers who are building new stores, Ford's rollout in the United States and Canada is complete. About 160 dealers in Mexico also have the system.
Fordstar will be used as a model for Ford training operations in Europe and Asia Pacific.
Fordstar, BMW's Visionwerke and GM's satellite system are interactive and employ "distance learning." Instructors are in one location and students participate from several locations. Students interact with the instructor by pressing a button on a keypad. Two-way microphones enable students and instructors to talk.
GM has satellite TV capabilities at 9,000 sites, including all its factories, dealerships, and corporate and zone offices.
GM program topics range from product knowledge and technical training to the quarterly financial results. The system also can target specific audiences.
While GM does use some professional talent, most of its programs feature its own employees.
"It makes more sense for experts who know the material to deliver it," Marsico said.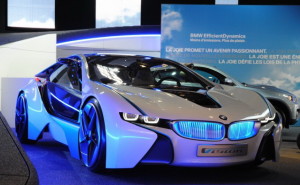 BMW'S VISIONWERKE
Started in October 1996, BMW's Visionwerke is the new kid on the TV block.
Virtually all BMW dealerships are connected to the system. The network debuted with about 20 hours of programming a week and is now up to about 35 to 40 hours a week, Irish said.
BMW's programming includes "BMW News Magazine," complete with an anchorperson; "Competitive Forum," which compares BMW vehicles with their rivals; and "The Service Roundtable," a monthly talk show for service technicians and engineers.
Also, BMW offers about 20 interactive sales and service training courses. Irish said the goal was to cut out-of-dealership training time by 25 percent by 1998.
"We've looked at our curriculum and decided which pieces can be on Visionwerke," Irish said. "If we continue to grow at the rate we're going, we will move to a second channel, possibly in 1998."
BMW paid for the equipment; dealers pay a "modest" monthly fee, Irish said.
What sets Fordstar apart from the competition is that it uses technology that allows Ford to broadcast different programs on 10 channels simultaneously.
Training in French and Spanish is broadcast to dealerships in Canada and Mexico.
Fordstar offers 112 courses. Its programming runs Monday through Friday from 6:30 a.m. until 9:30 p.m. EST.
The system has 15 studios. Among its innovative pieces of broadcast equipment is the Multimedia Instructional Podium, also known as the MIP Desk. This allows the instructor to operate the camera and sound equipment and act as director and producer. Ford has 16 MIP Desks.
Ford picked up the cost of installing Fordstar at dealerships. Dealers paid about $6,000 for hardware, which includes a personal computer, 27-inch TV monitor, a videocassette recorder, and a decoder that unscrambles the satellite transmission. Dealers' monthly charges range from $320 for small dealers to $2,500 for large dealers.
"Our goal is to reduce time out of the dealership (for training) by 50 percent," said Conley.
In 1994, the last year Ford conducted all its training in classrooms, 11,263 dealership employees took part in Ford's top 10 courses, which range from light-truck selling to warranty administration. In 1996, while still installing Fordstar in about 2,000 dealerships, those same 10 courses accommodated 18,142 employees via Fordstar and 2,132 in classrooms.
In 1996, 124,510 dealership employees participated in some aspect of Fordstar. Ford expects to easily exceed those numbers in 1997. Through June, Ford already had reached 34 percent of its 76,000 dealership service personnel via Fordstar.
"The world and the competition is changing; we need to be faster," Conley said.